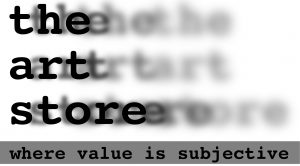 RSVP to the Facebook Event
What is The Art Store?
The Art Store is a collaboration between Sandy Ruffin and Melanie Reed. It's a one day pop up shop where people bring visual art and trade it for different visual art. It's both an interactive installation that examines the valuation of art and a playful space to discuss a serious issue.
What happens at The Art Store?
Customers bring in a work of visual art, present it to a staff person and explain what they hope to get from the exchange. A staff person evaluates the work and chooses a few pieces of equal value from the store stock. Then the customer can choose one of the works to take, suggest a counter offer of a different work from the store stock, or decide to keep the work they started with. Hopefully this will inspire discussions of how art is valued, and how the valuation of art changes our perceptions of the work.
Why is this happening?
Because it will be fun.
Because sometimes an artificially constructed experience is the best way to recognize real truths.
Because artists work in a system where strangers decide the monetary value of their work. We do not have the opportunity to examine the monetary value of our work, but create in a system where we have to choose a price and hope to earn enough money to live and keep working. The world of art auctions and investments creates a world where an artist is only valued when their art is valuable, and we'd like to look at that more closely.
Or just because you can swap art you don't love anymore for something new.
How do I participate?
Come to The Art Store. Bring a piece of artwork – a print, a sketch, a poster, a painting from goodwill, literally any piece of visual art – with you. Engage in an open dialogue with other participants. Have fun.
What if I don't have any art to trade?
Come anyway! You can still be part of the discussion, and even give your opinion on the trades that happen. You might not get a piece of art to take home.
When, where and how much is The Art Store?
One day only. Saturday, May 18, noon to 6 pm. 843 Hiawatha Pl S. Free!
I have more questions.
email sandylizart@gmail.com or ask in the Facebook event